What is K:spir and how can it revolutionise the SPIR process?
The SPIR process urgently needs to enter the 21st century
At KOIOS Master Data we have a unique understanding of the difficulties caused by the current SPIR (Spare Parts Interchangeability Record) process. Through our team's years of MRO consultancy work, we have first-hand experience of how damaging the poor-quality data supplied in SPIRs can be to oil and gas projects. It can have a profound effect on cost, time and resource – cost, time and resource that could be spent innovating and developing a competitive advantage. Not to mention, the unnecessary wastage it can lead to, in an industry that can hardly accommodate it in the current climate. In this age of Industry 4.0, digital transformation and international data standards such as ISO 8000, the question begs – why is data quality consistently letting the side down? When we struggled to find an effective SPIR solution, KOIOS Master Data was born and we set out to create one.
K:spir is the only SPIR software designed this century using ISO 8000 standard data. It creates machine-readable data that retains quality throughout the chain, enabling accurate decision making and resulting in reduced cost, time and resource.
Here, we look at the importance of master data management, the challenges created by the SPIR process, and how K:spir is uniquely positioned to resolve those challenges.
Why is data management so important to the SPIR process?
In this age of 'data explosion', most businesses are aware of how poorly-managed data can put them on the back foot. In Experian's 2019 Global Management Data Research, they found that 95% of organizations surveyed see a negative impact from poor data quality.
Similarly, the Aberdeen Group's Big Data Survey in 2017 found that the biggest challenges for Executives arise from data disparity, including inaccessible data, poor quality data informing decisions and the growing need for faster analysis. 
The overall effect is a lack of trust in data, to the great detriment of strategic decision making. And when you can't trust your data to inform business decisions, then cost, time and resource will inevitably suffer.
In the context of the SPIR process, accurate decision making is everything. The SPIR exists as a tool for forecasting spares requirements for the life of a project, its sole purpose being to assist the Owner Operator (O/O) to make accurate decisions. Yet, as many will attest, the data supplied is often inaccurate, hard to access and sometimes supplied by the Engineering Procurement Contractor (EPC) at handover, by which time it is often too late to inform anything at all. 
Experts have raised the question – if you can't trust SPIRs to make accurate procurement decisions, then are they worth the paper they're written on?. The process is clearly out-of-date, yet it continues to blight the efficiency of many oil and gas upstream projects.
SPIRs dissected 
The shortcomings of the antiquated SPIR process can be summarised into three key areas:
1. DATA IS INACCURATE AND OVER-SIMPLIFIED
SPIRs are generated from paper forms and are transcribed many times, so part descriptions become distorted. Often, parts have multiple descriptions.
Solution: K:spir locks in data quality right at the start of the process, using ISO 8000 standard data. Part descriptions are consistent and safe from misinterpretation, providing confidence in forecasting and reordering. 
SPIRs are usually completed by an Original Equipment Contractor (OEM), who is not necessarily aware of the O/O's operating and maintenance procedures. Therefore, they do not take into account equipment criticality or maintenance capability.
Solution: K:spir uses the maintenance and repair strategy to determine the spares requirement, reducing wastage and taking cost off of the bottom line.
2. DATA IS INACCESSIBLE AND DIFFICULT TO ANALYZE
SPIRs often provide information in spreadsheets or pdfs, which are impossible to extract data from quickly, if at all. To extract anything meaningful is very cost and time-intensive, and relies on support from IT specialists.
Solution: K:spir provides instant reporting on the completeness and cost of spares, allowing for accurate decision making. The information is fully configurable to the requirements of the O/O. It can also create a Maintenance Bill of Materials (BoM) and is interoperable with maintenance systems.
Information is not portable and has to be re-entered for different systems.
Solution: K:spir generates portable (machine-readable) data saving significant time spent re-keying information and unnecessary data handling costs.
Data exists on many platforms and is not available to all stakeholders, all of the time.
Solution: K:spir is cloud-based, providing simultaneous access to all stakeholders in the chain. This allows for more transparency and accountability at all stages of the project lifecycle.
3. DATA IS SUPPLIED TOO LATE
Sometimes even as late as handover, by which time it's too late for the O/O to minimize the operating risk. There is no opportunity to make informed decisions, such as ordering spares with long lead times, or calculating warehouse space. This can lead to unnecessary wastage and operational difficulties along the line.
Solution: K:spir provides transparency right from the beginning of the project, allowing for critical decisions to be made early on. 
With its unique set of features and benefits, it's clear that K:spir can relieve the symptoms of the current SPIR process with immediate effect, saving valuable cost, time and resource.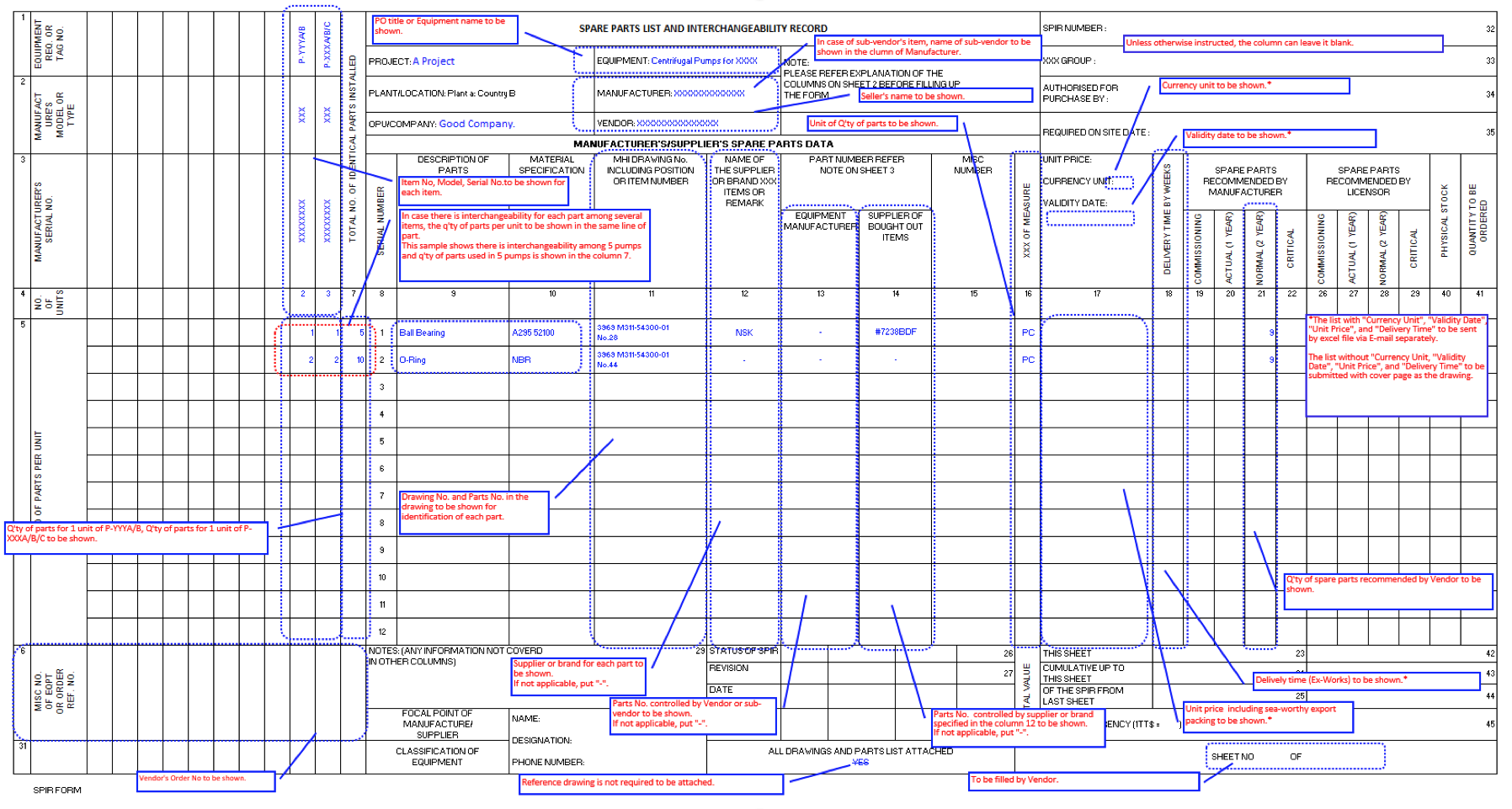 A SPIR – this is not what efficiency looks like!
SPIRs and effective MDM – who is responsible for getting it right?
As confident as we are in the KOIOS software suite to advance the world of Master Data Management (MDM), there are clearly other factors that need to be addressed, most notably, ownership. It is a thorny area, and one that is being more keenly contested as digital transformation rattles on apace. As the Aberdeen Group puts it, there is a "growing urgency for better data management", as businesses see the shortfalls of their inability to harness data.
Experian's report shows that in 84% of cases, data is still managed primarily by IT departments. Revealingly, 75% of their sample thought that ownership should lie within the business, with support from IT. They conclude that organizations should develop their MDM strategy to fulfill the needs of a much larger group of stakeholders, who wish to harness the power of their data to improve decision making and efficiency.
In the context of SPIRs and oil and gas projects, we believe that O/Os should become more demanding over the quality of data supplied to them by manufacturers. It is unrealistic for their IT experts to have sight of the broader operational requirements, with their own priorities being diverse and demanding. It is the Executives who suffer the consequences of the risk taken by ignoring poor data, and the operations and maintenance departments that will experience the pain. Clearly, they need to make their voices heard much earlier in the process. That said, manufacturers and EPCs also need a better understanding of the challenges faced by O/Os, and in our view should share the responsibility for getting the data right from the start.
It is, as previously stated, a tough subject, but we are constantly encouraged by the conversations we have with manufacturers and O/Os alike. More and more key stakeholders are waking up to the power that effective MDM can have in driving business forwards, by freeing up cost, time and resource and supporting strategic decision making. Not just to their own ends, but for industry as a whole to fully realize its digital transformation goals.
Join us in our vision to revolutionize the SPIR process
A radical change to the SPIR process and MDM as a whole is on the horizon. While there may be no silver bullet, we firmly believe that the right software is an essential move forward. The KOIOS software suite is geared towards this larger shift in MDM, but in the case of K:spir, the results can be felt immediately.
Our hope is that O/O's and manufacturers alike will unite in becoming more discerning and demanding about data quality, working as one to create harmony along the chain. At KOIOS Master Data, we are committed to leading the conversation and driving better data quality.
Contact us
If you wish to become part of the change and join us in our vision to revolutionize the SPIR process, we would love to discuss it further with you. 
+44 (0)23 9387 7599